Each month, I will be choosing a different restaurant to eat at and review for a new segment in our Pickaway County Fun Pages. This month my dad and I visited Goodwin's Family Restaurant on 214 Lancaster Pike in Circleville, Ohio. Established in 1979, it is a great sit down restaurant with a warm atmosphere and kind employees. On the weekends they offer a buffet, but you are more than welcome to order from their menu items. They offer a variety of breakfast, dinner, sandwich, soup, salads and dessert items – they even have a lighter meal menu for seniors.
One of my favorite things about this place had to be when we first noticed the old black and white pictures in the entry way. Circleville from days gone by with a few of them of Ted Lewis. For the meal I ordered their fried chicken salad with rolls on the side, while my dad ordered their chicken club with fries. The rolls, which were included with the meal, came soon after I ordered them. I originally anticipated them freshly baked and warm, but they were a little cool and the butter did not melt. The rolls were still excellent.
---



External advertisement
---
It wasn't too long after that the rest of our food came in, and we were able to dive in to the main course of our meal. My dad gave his meal a big thumbs up – he thought the sandwich was great and that the fries were so good you could eat them without ketchup.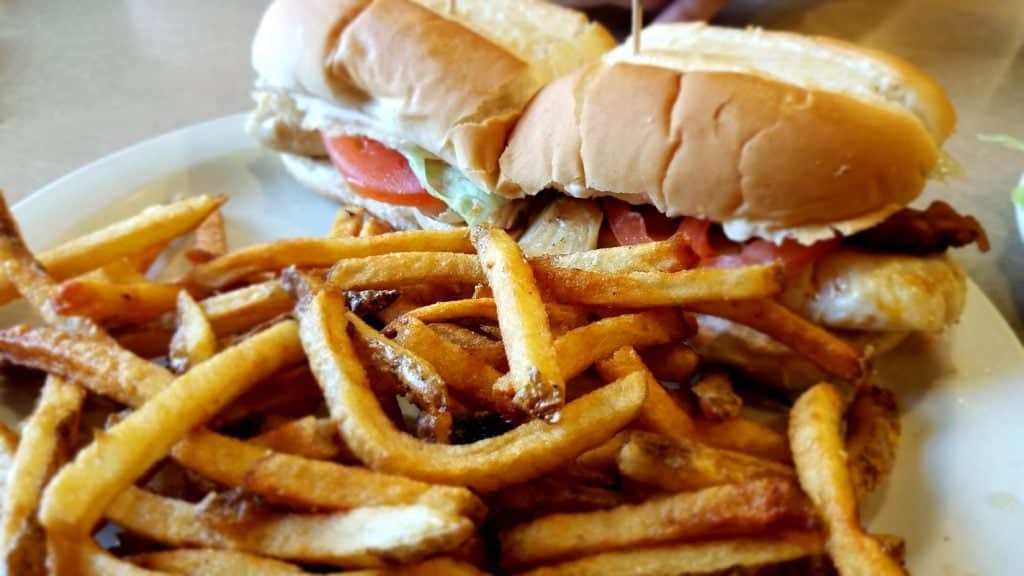 My salad was a pretty decent sized salad, with the right amount of cheese, fried chicken and honey mustard dressing. I could have gone for maybe a few more pieces of cucumber (I love cucumbers), but overall I was pleased with my salad.
---
About Dimple Dash Reviews
Dimple Dash is a foodie review of restaurants located in our reading area. This includes Fairfield, Fayette, Pickaway and Ross County but may reach slightly outside those counties too.  Some restaurants may be locally owned and some may be national, regional or chain stores.  No matter what, our "Dimple Dash" reviews are one of our most popular online topics.  We're guessing because everyone loves food!
If you are a business that would like to have a "Dimple Dash" team review your restaurant, bakery, coffee shop or other eating establishment please contact us to find out more information. <<Click Here>>
If you have a suggestion of a restaurant you would like us to check out and possibly do a review for please drop us a note.
---



External advertisement