Here are the answers to the puzzles that are located in the February 2019 PRINTED EDITION of the Dimple Times.
PAGE 1
PAGE 2
Comics
PAGE 3
PAGE 4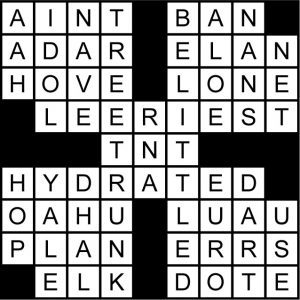 PAGE 5
Trivia Teaser Answers
1-b, "The Wizard of Oz"
2-a, Florence
3-b, Kevin
4-a, Bobby Vinton
5-c, Ken Griffey, Jr.
6-a, Beijing
7-d, Lynyrd Skynyrd
8-d, Lodge
9-d, Apple
10-a, Iron Man



PAGE 6
PAGE 7
PAGE 8
Sports Quiz Answers
1. Ten times.
2. Scott Erickson (20 wins in 1991) and Brad Radke (20 wins in 1997).
3. Bob Stoops (190 wins), Barry Switzer (157), Bud Wilkinson (145) and Bennie Owen (122).
4. Two — Mark Eaton (456 in 1984-85) and Manute Bol (397 in 1985-86).
5. Mats Sundin did it in the first five games of the 1992-93 season when the franchise was located in Quebec.
6. South Korea, with 10 appearances.
7. It was 1954.
© 2019 King Features Syndicate, Inc.
Flashback – Pop, Rock and Soul Trivia February 2019 Answers
1. Neil Diamond, in 1970. Legend says that Diamond's emotional investment in the song led to a dispute with his recording company, which refused to release it as a single.
2. The Rolling Stones, in 1967. The title is a takeoff on text that appears on British passports, which says "Her Britannic Majesty requests and requires …"
3. Free, in 1971. The song was likely written as a message to one of the band members with addiction problems.
4. Jesse Colin Young, in 1973. Juli was his daughter.
5. "Bad Case of Loving You," by Robert Palmer, in 1979. Although Moon Martin had released the song the previous year, it was Palmer's version that climbed the charts and scored him a Grammy nominee for Best Male Rock Vocal Performance.
© 2019 King Features Syndicate, Inc.