If you're in Chillicothe and you're looking for a bite to eat, I highly recommend checking out the Old Canal Smoke House. It is located within historic downtown Chillicothe and the name pretty much speaks for itself. In case you're wondering – yes, it is a smokehouse restaurant set up inside an old canal house. The beautiful, old house once sat on the bank of the Ohio Erie canal that once ran throughout Ohio and gave the idea for the restaurants' name.
The Old Canal Smoke House offers smoked foods fresh – anything from ribs, chicken, sandwiches, burgers, appetizers and desserts.
We ordered two sandwiches: an oven roasted turkey sandwich that was topped lettuce and tomato and a ham and cheese sandwich that was topped with lettuce, tomato, red onion, banana peppers, black olives and Italian dressing.
Both were served on a delicious and fresh Ciabatta Bun.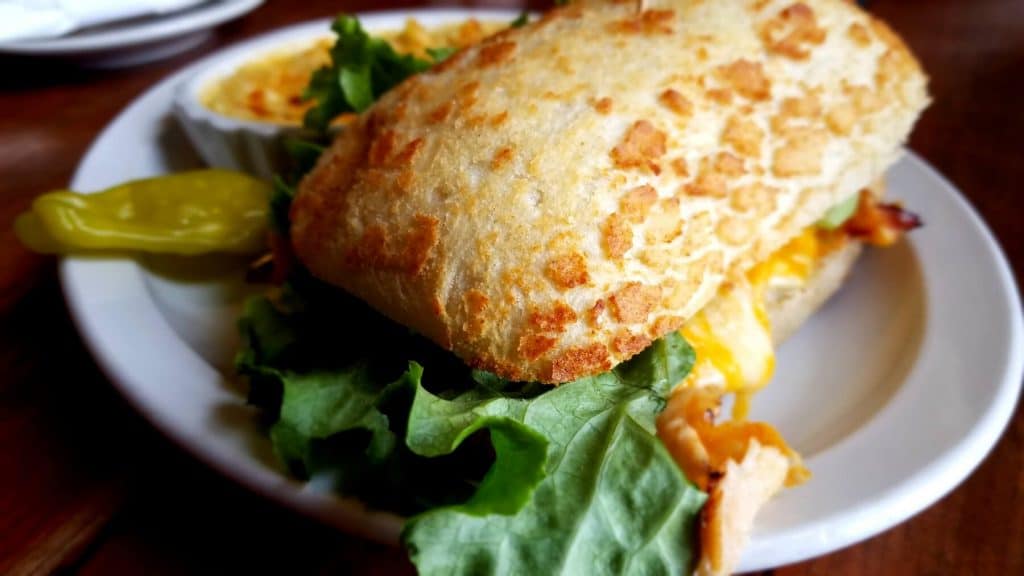 For sides, we ordered their fresh and creamy corn casserole and their gourmet four cheese Mac-N-Cheese, which was topped with a panko bread crust.
Everything was so fresh, filled with a delicious flavor that quite honestly just thinking about it is enough to make my mouth water – and if you're looking for a good throwback, the Mac-N-Cheese was a great reminder of a meal from days long gone by.
The waitress shared that everything made at their restaurant is made fresh and that the employees arrive as early as 6:30 am to begin making everything.
Outside of a great meal and incredibly kind employees, the atmosphere also makes the meal. The old house turned restaurant gives off its own unique personality.
They even have an added on porch area that they recently closed off to allow for more indoor seating area.
If you're looking to join them Thursday – Friday, they highly recommend that you get a reservation – as you could find yourself waiting 50 minutes to be seating. That said, it is certainly worth the wait.
Old Canal Smoke House is located at:
94 East Water Street
Chillicothe Ohio
---
About Dimple Dash Reviews
Dimple Dash is a foodie review of restaurants located in our reading area. This includes Fairfield, Fayette, Pickaway and Ross County but may reach slightly outside those counties too. Some restaurants may be locally owned and some may be national, regional or chain stores. No matter what, our "Dimple Dash" reviews are one of our most popular online topics. We're guessing because everyone loves food!
If you are a business that would like to have a "Dimple Dash" team review your restaurant, bakery, coffee shop or other eating establishment please contact us to find out more information. <<Click Here>>
If you have a suggestion of a restaurant you would like us to check out and possibly do a review for please drop us a note.