If you're looking for a good place to go out for a date, Friday night out or simply a new place to visit for lunch, I recommend checking out The Pour House at Machinery Hall located in downtown Chillicothe, Ohio.
Rustic meets modern in this location, with its exposed bricks, comfy booths, bar, and a high ceiling. Walking in, you are greeted with a beautiful, huge old image of the Chillicothe area that adds a nice personality to the room.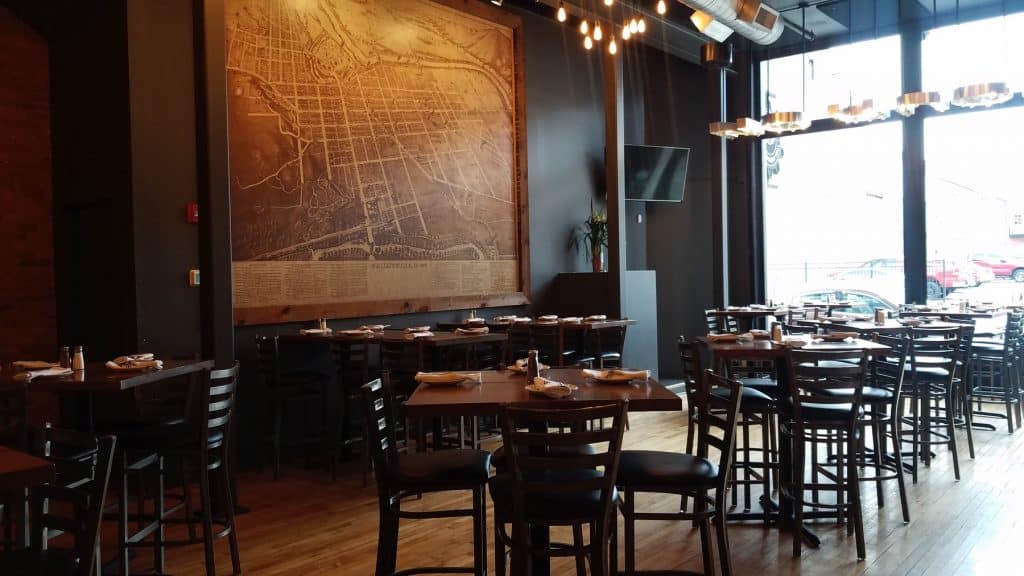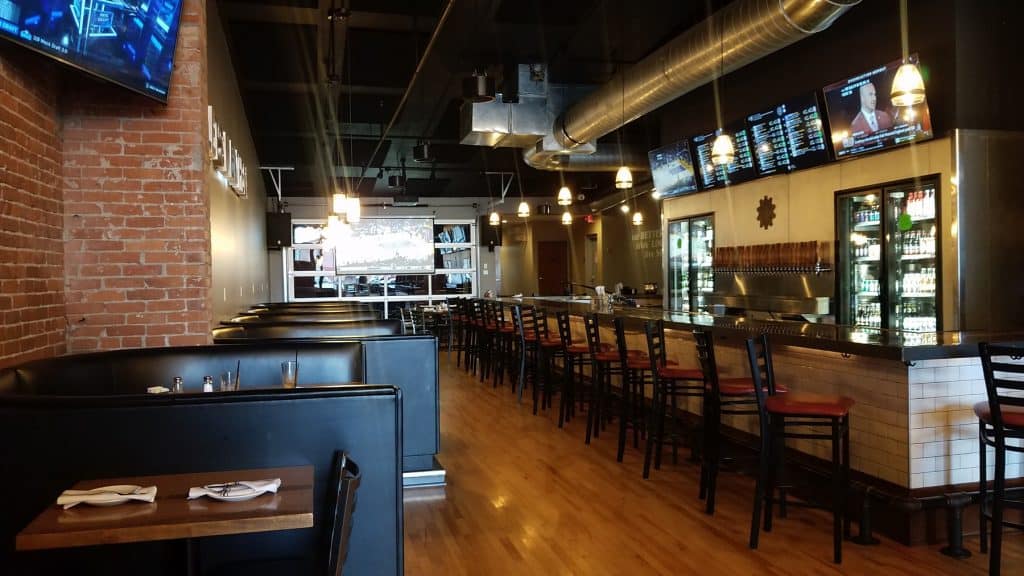 The menu has a variety of burgers, handhelds starters and it even has a kids menu. There were so many different things I wanted to try, but we both finally came to a decision.
The first thing we ordered was their Smoked Gouda + Apple Chicken Sandwich. The name is just as it sounds, but it still had a surprising twist when you bit into the sandwich. It came paired with a soft, traditional bun that had a honey-like flavor, resting in between the buns was fresh greens, sriracha aioli, chicken and the piece that tied it all together – an apple slice. A unique blend, the apple slice added to the medley of flavors as opposed to overpowering it.
On the side was a batch of freshly cut fries and I do mean fresh. Our waitresses explained that they were actually cut fresh, cooked and delivered. Crispy and fresh, the fries were a great touch with the sandwich.
We also ordered Market No.9 Taco, of which I had no clue what I was getting myself into. Delivered in a soft shell, all three tacos were topped with a generous amount of fresh greens – which is the first thing that caught my attention – served also with quinoa, salsa verde, black beans. The biggest jaw-dropper was the fact that I ate all of these tacos and was none the wiser to the fact that the "chicken" actually turned out to be sweet potato.
Without realizing it, I had ordered a vegetarian taco – and let me tell you, it was one of the best tacos I have had in ages. A nice mix of sweet and salty in flavor, I can see myself going out of my way for this meal again.
On the side, my taco was served with a side of chips and fresh salsa. The chips were delivered warm, which I have always been a fan of and in pairing it with the fresh salsa, brought the whole meal together.
The Pour House is located:
25 East Second Street,
Chillicothe, OH 45601
---
About Dimple Dash Reviews
Dimple Dash is a foodie review of restaurants located in our reading area. This includes Fairfield, Fayette, Pickaway and Ross County but may reach slightly outside those counties too. Some restaurants may be locally owned and some may be national, regional or chain stores. No matter what, our "Dimple Dash" reviews are one of our most popular online topics. We're guessing because everyone loves food!
If you are a business that would like to have a "Dimple Dash" team review your restaurant, bakery, coffee shop or other eating establishment please contact us to find out more information. <<Click Here>>
If you have a suggestion of a restaurant you would like us to check out and possibly do a review for please drop us a note.