It was a beautiful, cool evening during the 2019 Pizza Challenge – but the crowd and the competition were on fire. Multiple booths ran out of pizza within the hour and had to have more made up to keep up with the growing crowd.
The pizza locations at the event tonight was Gibby's Eatery and Sports Bar, Donatos, Watt Street Tavern, Dairy Shed, Too! & Ramrod's Pizza, Underdogs Pizza, Pizza Cottage and Gantz Pizza.
Music was provided by a local band known as Black Stone, who kept the crowd cheering and buzzing before McGuffey Lane hopped on stage closer to the end of the Pizza Challenge.
Pinckney St was shut down just before The Savings Bank parking lot and within a short period of time, the small area was filled with locals milling around and trying all the different pizzas. After they had their fill, they would make their way back to a little table to cast their vote on who their favorite pizza location was.
At the end of the night, the votes were tallied up and the winners were chosen. The winners were presented by the Pickaway County Visitors Bureau, and by a gentleman named Doug from Coughlin Automotive(one of the sponsors for tonight's event).
The overall winner for tonight's event was Dairy Shed, Too! & Ramrods' Pizza – who on this night, was best known for their delicious "Oink Oink" pizza.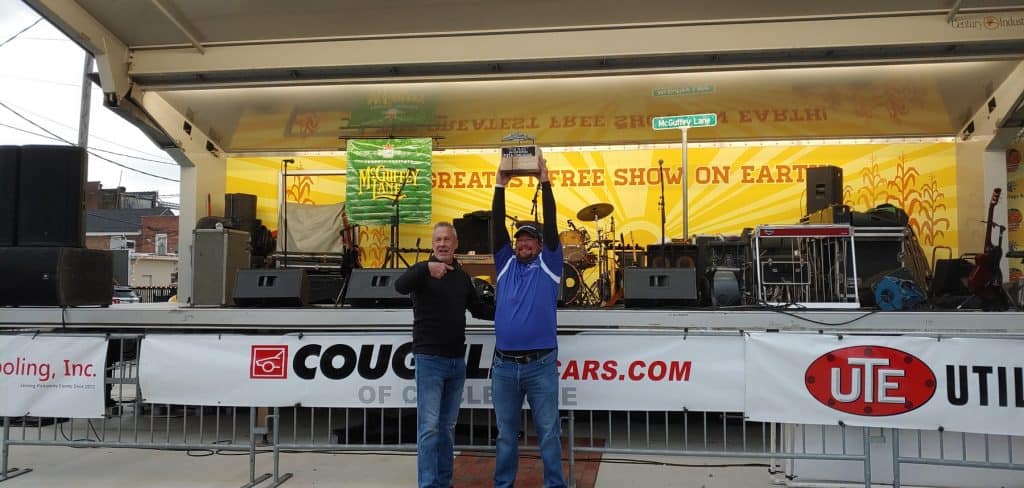 Dairy Shed, Too! & Ramrod's Pizza wanted to share their thanks to everyone who participated tonight: "Thanks to everybody that came out and for supporting this pizza fest. Without the fans, we wouldn't have [won] at all. Definitely, want to thank all of our customers who kept us in business for the last three years. We're in a very small town, and I just can't believe the support that we get."
The other winners from tonight's challenge were:
 Specialty Pizza: Watt Street Tavern
Judges Choice: Gibby's Eatery and Sports Bar
Best Pepperoni: Donatos Pizza
---
About Dimple Dash Reviews
Dimple Dash is a foodie review of restaurants located in our reading area. This includes Fairfield, Fayette, Pickaway and Ross County but may reach slightly outside those counties too. Some restaurants may be locally owned and some may be national, regional or chain stores. No matter what, our "Dimple Dash" reviews are one of our most popular online topics. We're guessing because everyone loves food!
If you are a business that would like to have a "Dimple Dash" team review your restaurant, bakery, coffee shop or other eating establishment please contact us to find out more information. <<Click Here>>
If you have a suggestion of a restaurant you would like us to check out and possibly do a review for please drop us a note.