Art and Clay on Main & Square Seven Coffee House located in Lancaster, Ohio are social enterprises of the Fairfield County Board of Developmental Disabilities. They "Exist to bring about a vibrant community where people lead fulfilling lives and make meaningful contributions," according to David Uhl – the Director of Business Development and Government Relations at the Fairfield County Board of Developmental Disabilities.
Art & Clay on Main provides pottery classes, as well as the opportunity to walk in anytime they are open to paint, drink coffee and to browse.
They do so much more to benefit the community – by employing a diversified workforce of people with and without disabilities. Additionally, David shared that: "We have an internship program that teaches essential skills and habits needed to succeed in the workplace. We are a part of the local food movement in our area, sourcing a number of our menu items locally. We are a part of the community arts and entertainment scene through our Gallery, Artist in Residency program, class offerings, partnerships, and weekly Friday Night live music."
They are also involved in tourism efforts, as they sit not too far from Hocking Hills. They also participate in all of the Destination Downtown Lanacaster events and activities as well as provide a space for anyone in the community who wants to come and create, meet with friends, have a business meeting or a party, or for those who simply just want to pop in with a laptop, a good book and chill.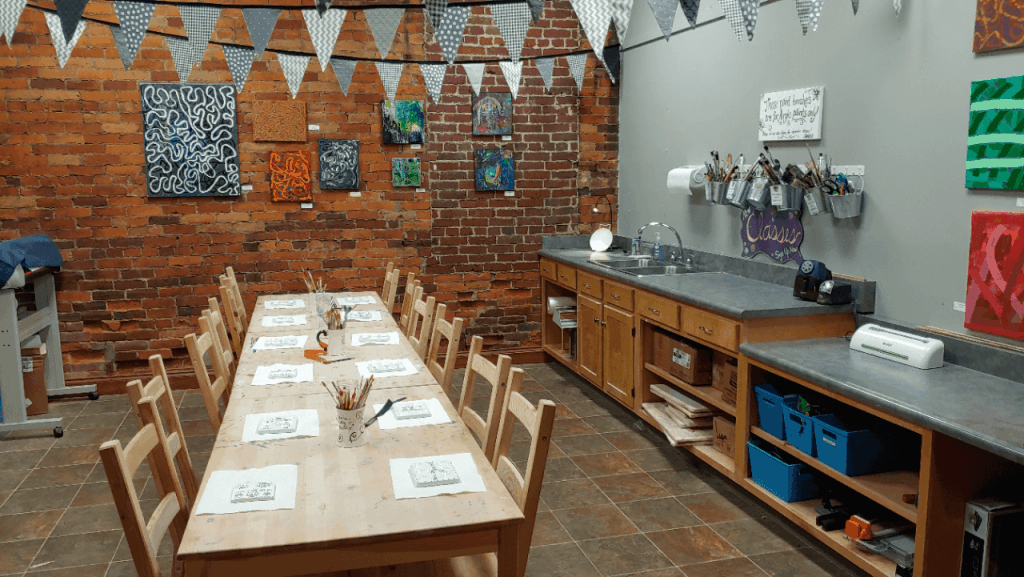 For David, he's been a part of Art & Clay for seven years and is grateful that he has been able to be a part.
"It has been amazing to watch as not only the business and Downtown have found success, but as the people we support do, as well. We are really just a small part of their success journey, and it has been great to be able to serve and support the community through our efforts."
While Art & Clay, Square Seven Coffee House and the Fairfield County Board of Developmental Disabilities has done a lot to be a help in the Destination Downtown Lancaster area, they are also in need of help.
Their number one need? YOU!
"We need customers, so come on down and check out what's happening," David explained, before adding: "Also, we need ambassadors to continue to tell our story and to help people understand what we are doing as a social enterprise. It's one thing when I tell the story, but it is something really different and special when people from the community see what we are doing, it clicks with them, and they start telling others. That's powerful stuff!"
If you would like to get in touch with David, you can reach him at: [email protected].
Art & Clay On Main/Square Seven Coffee House is located at:
150 W Main St
Lancaster, Ohio 43130
Phone: (740) 653-1755
Website: www.artandclayonmain.com
Facebook: www.facebook.com/artandclay
Instagram: www.instagram.com/artandclay_square7
Fairfield County Board of Developmental Disabilities
795 College Ave.
Lancaster, OH 43130
(740) 652-7220
Website: www.fairfielddd.com