If you're looking for that small-town charm, a menu with a variety of foods, beautiful, rustic décor, and a friendly atmosphere – then be sure to swing by Baltimore Pint House located in Baltimore, Ohio.
You will be greeted with the delicious scent from the moment you walk into the door, and chalkboard signs in the dining area listing off new items, hot items, and the food item of the day.
We decided to go with a couple of cheeseburgers – a good old classic burger, and their very own Ohio Farm burger.
The Farm Burger is like having a small town breakfast burger with a surprise twist – on top of the hamburger, bacon, fried egg, lettuce, tomato, onions and mayo, Baltimore Pint House adds grilled ham to give it a nice range of meats between two tender and sweet buns.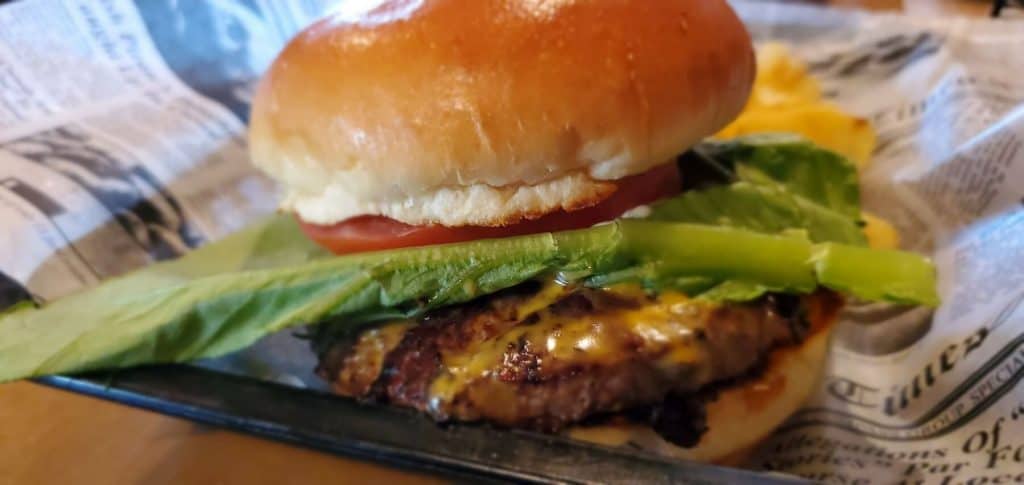 Their classic burger is everyone's favorite, a traditional burger with cheese, lettuce, onion, and tomato. Their 8oz burgers are a blend of brisket, beef and short rib – ours were served medium-well and brought to us hot and firm, topped with crisp vegetables and served with a side of kettle chips, but you can choose anything from fries, salads, house-made slaw, mac-n-cheese, or Soup Du Jour.
If you're ever in the Baltimore area or are looking to try someplace new, swing by Baltimore Pint House for a great menu, incredible staff and delicious food.
Baltimore Pint House
108 N Main St
Baltimore, OH 43105
---
About Dimple Dash Reviews
Dimple Dash is a foodie review of restaurants located in our reading area. This includes Fairfield, Fayette, Pickaway and Ross County but may reach slightly outside those counties too. Some restaurants may be locally owned and some may be national, regional or chain stores. No matter what, our "Dimple Dash" reviews are one of our most popular online topics. We're guessing because everyone loves food!
If you are a business that would like to have a "Dimple Dash" team review your restaurant, bakery, coffee shop or other eating establishment please contact us to find out more information. <<Click Here>>
If you have a suggestion of a restaurant you would like us to check out and possibly do a review for please drop us a note.