On this chilly Wednesday night at the Pumpkin Show, a queen and her attendants were crowned – and the Pumpkin Show park stages occupants were greeted with a series of warm shouts of praise and cheers as each young lady crossed the stage.
The 2019 Second Attendant was Katherine "Katie" Parks of Zane Trace High School, The 2019 First Attendant was Laynee Hill of Zane Trace High School, and the 2019 Miss Pumpkin Show Queen was Morgan Anderson of Amanda Clearcreek High School.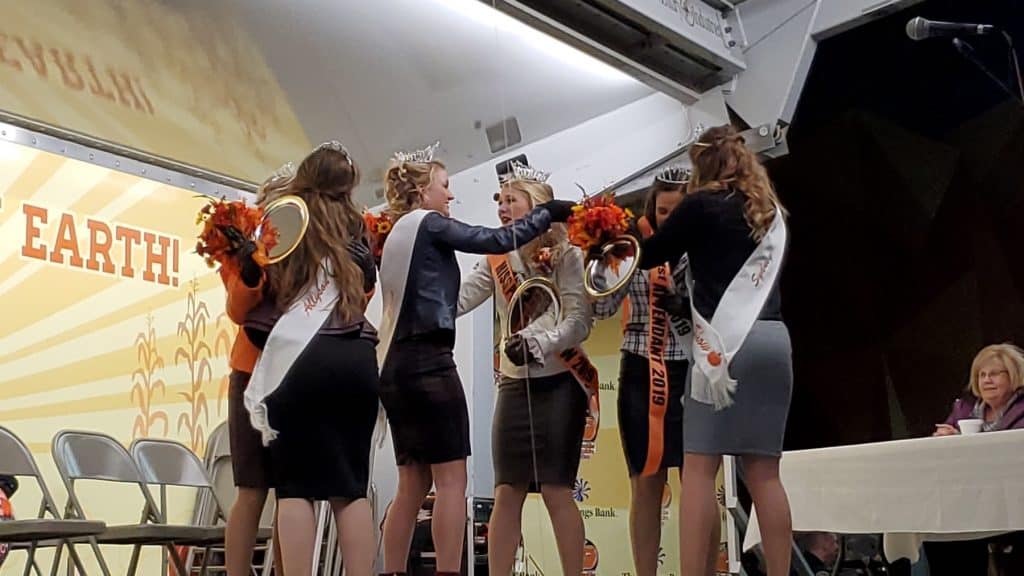 It was a night full of laughter, tears, reminiscing and thank you's – as last year's royal court passed on their crowns and their roles to this year's new court.
We were able to speak with each member of the 2019 royal court, and pretty much all of them had the same reaction when it came to finding out the big news.
"I was shocked," Katie, the new 2nd attendant admitted, "Words can't describe the feeling."
Her response was followed by Laynee acknowledging: "Its crazy, I can't believe it."
The best reaction of the night had to be the Morgan's, whose goal was to at least make it into the top seven.
"My goal for the night was top seven, and I walked off with a plate that somehow says queen on it." Morgan's response was tearful, but also filled with excitement and joy.
This only the beginning of their journey, as all three have an exciting year of attending fairs and trying out new things ahead of them – each one of them extremely excited for the new challenges coming up.
"I am so excited to travel outside of Fairfield and Pickaway County. I'm excited to meet new people, try new things, and see places I've never been [to]." Morgan shared.
Katie agrees that traveling is one of the things she's excited about, but she's more excited about whom she'll be traveling with. "I can't wait to go to all these festivals with these girls and just become so tight," she replied, unaware that Laynee would share this same thought.
"I am most excited to spend the whole year and the rest of this week with Morgan and Katie. I couldn't have asked for a better two girls to be crowned with." she was excited to admit.
While passing on their crowns won't happen until next year's Pumpkin Show, Morgan, Katie and Laynee were willing to share some words of advice to those who would be preparing for this same type of night in the next year.
"Assuming it's one year from now and I've done the things I wanted to do… I would say: 'Take in every moment.' I am telling myself to do that now, and I'm doing it." Morgan closed with a laugh.
Katie followed up with a simple, but perfect response that truly is something we should all live by.
"Just be yourself. I was just my goofy self the whole time, and they like that. They like someone who can just be themselves and represent Circleville well."
"Just have fun and make the most of it," Laynee added, continuing on to say: "I think what got me through this night was just knowing that it is going to be a fun experience no matter what. No matter if you get a crown or not, it's a fun experience and the people you meet along the way are incredible."
Each young lady has an exciting year ahead of them, and they're excited to share that with you all this week during the rest of the 2019 Pumpkin Show.
Morgan closed out this night with one simple, fun sentence that she wanted us to add: "GO ACES, BABY!"