If you're looking to celebrate Friday night out any night of the week, you can find just that when you stop in to eat at Gant's Pizza in downtown Circleville, Ohio.
With several TVs throughout the location displaying various sports, a pool table in the back, country music blaring, and the opportunity to run into and catch up with friends – Gant's warm, lively, rustic scene is sure to make your evening a blast.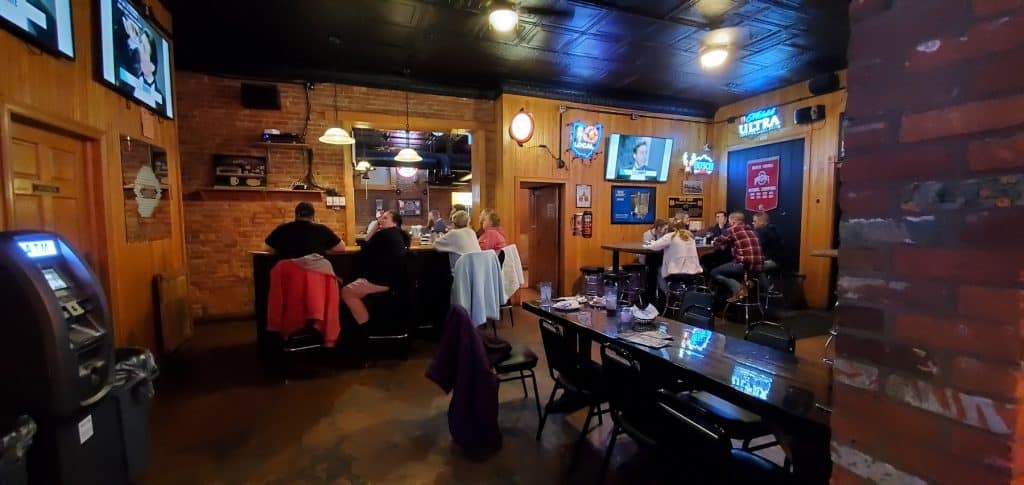 Oh, and we haven't even gotten to the best part… their delicious varieties of specialty pizzas, subs, wings, and tailgaters.
We decided to shake it up and order one of their specialty taco pizzas, which is like picturing the best taco you've ever had, served and topped high on top of hot, crispy pizza crust. Seasoned ground beef lies underneath a huge pile of lettuce, tomatoes, with onions mixed throughout. All of these toppings rest on top a delicious amount of melted cheddar cheese. Add a bit of sour cream, and you've got yourself one mean, messy, fantastic and perfect pizza – which I highly recommend if you're looking to try something new.
On the more traditional side, we also picked out and ordered an Italian Sub – which Italian Subs are a personal favorite of mine.
Ham, salami, pepperoni tie-in together with melted provolone cheese, lettuce, tomatoes are paired up with hot peppers, onions, which add a bit of spice and flavor – but the final piece really brings it all together – Italian dressing dripping and oozing between two toasted, white sub buns.
Outside of an outstanding meal, a great, lively atmosphere, Gant's waitresses are kind, checking up on you constantly and making sure that you're taken care of.
Gant's Pizza is located at:
114 S Court St
Circleville, OH 43113
---
About Dimple Dash Reviews
Dimple Dash is a foodie review of restaurants located in our reading area. This includes Fairfield, Fayette, Pickaway and Ross County but may reach slightly outside those counties too. Some restaurants may be locally owned and some may be national, regional or chain stores. No matter what, our "Dimple Dash" reviews are one of our most popular online topics. We're guessing because everyone loves food!
If you are a business that would like to have a "Dimple Dash" team review your restaurant, bakery, coffee shop or other eating establishment please contact us to find out more information. <<Click Here>>
If you have a suggestion of a restaurant you would like us to check out and possibly do a review for please drop us a note.