The game STONE AGE first published in 2008 has recently released a 10-year anniversary edition. The game has been going strong for over a decade!
STONE AGE is a "worker placement" game. That means you have workers, in this game a tribe of ancient peoples that you send out to various quests to complete jobs to better your situation.
The workers can be sent out each turn to gather food, lumber to build huts, mud to build bricks, stone to make tools, and/or gold for trading. There are other things to do such as farming to feed your tribe, turning your resources gathered into useful items and attracting more members to your tribe.
There are too many things to do each turn and careful planning will help you build a tribe that can grow and prosper. Also, there is a bit of take that in the game as the worker placement process goes around the board with each player placing a group of workers in one location, and many locations have limits on how many workers can be placed. So that special hut you wanted to build might not be available later in the round, so do you take it now or wait?
Adding more fun to the mix is that you are never exactly sure on the number of resources each tribe member will gather each turn. Of course, it is easier to gather lumber that it is to find gold. So the number of your tribe members sent on each task also plays a role.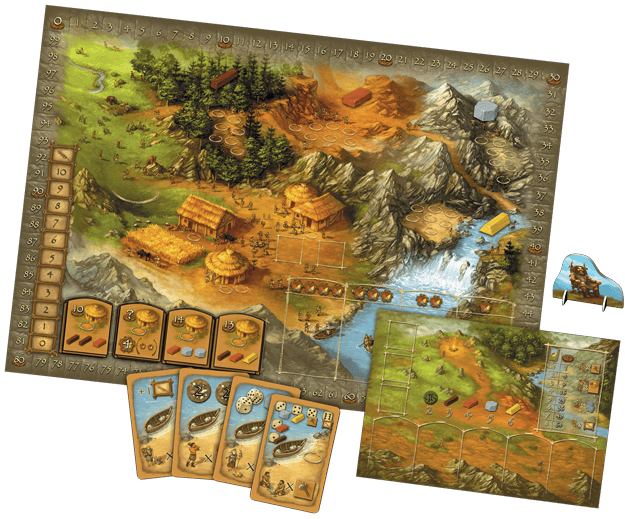 There are no wrong answers in the game – there are many paths to victory! As in most "worker placement" games there is no DIRECT conflict with your opponents, each player is in the game from the beginning to end. It is the person that can lead their tribe in the best fashion that will have the ultimate victory.
STONE AGE has been a STONE GROOVE for over ten years!