CIRCLEVILLE, Ohio (DimpleTimes) – The Roundtown Players deliver a performance that is hilarious, entertaining and thrilling with their production of Blake Edwards and Frank Waldman's The Pink Panther Strikes Again. Director Randi Morgan and her cast of 24 actors are giving Circleville the chance to escape reality for a couple of hours and to get lost in the clumsy tale of one Chief Inspector Jacques Clouseau.
The Pink Panther Strikes Again!!
The world's most unusual criminologist, Chief Inspector Jacques Clouseau, fights for his life and the future of all mankind in this most bizarre and dangerous caper of his brilliantly successful and clumsy career. Paul Dreyfus, once his long-suffering boss, now turned into a raving lunatic, holds the world at bay with the ultimate weapon – the Doomsday Machine. Dreyfus is out to get Clouseau, the man whose undeserved success has driven him crazy, and he threatens to vaporize the world if the nations don't deliver Clouseau to him. An army of deadly assassins are gunning for him, a beautiful Russian agent is out to kill him, but Clouseau stumbles and slips by every attack. But time is running out…
You'll find yourself following these characters into different countries and different situations as Clouseau races to investigate the disappearance of Fassbender and his daughter. You're guaranteed to laugh a lot (perhaps even snort a bit), gasp a little – but no matter what, you're guaranteed to have a fun time. So gather some friends, family or check out the show on your own this weekend!
Randi Morgan shared in an author note:
"'It takes a village…', or in this case, a gaggle of cat-herders. When a production has 46 characters performed by only 24 actors, including six fuzzy felines, chaos is bound to follow. Kudos to all our cast and helpers for making this a success (we hope). Susan Loev and Matthew Nicklas have done double (and sometimes triple and quadruple) duty assisting in stage management. I was able to rope an old friend in to help, and she brought reinforcements – Nancy Schmidt designed our backdrops with help from her husband, Mort, and grandson, Jared. My partner-in-crime, Peter Graybeal, designed our poster, developed our playlist, designed our sound and very realistically portrayed the lunatic Dreyfus. Steve Johnson created our light design and is working our booth. Carrie Love is our assistant booth technician. And some old lady with a cane and absolutely no dancing skills tried to teach both the polka and the tango. Just hope you enjoy this as much as we've had putting it together. Move over, Gloria Gaynor – there's a new diva in town. Viva La France!"
The Pink Panther Strikes Again showtimes will run February 28th and 29th and will run March 1st, 6th and 7th. You can purchase tickets by visiting roundtownplayers.org.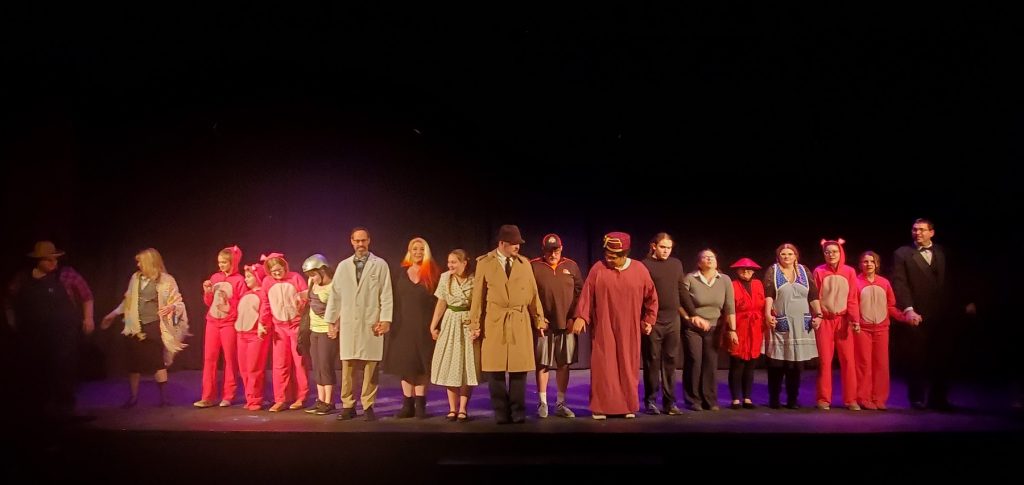 Starring: Reggie Allison, Ryleigh Bragg, Sage Brandum, Bailey Burke, Angie Cupp, Kelsey Cupp, Chloe Funk, Kairi Gotham, Megan Gotham, Peter Graybeal, Jimmy Laux, Caleb Layton, Della Layton, Olivia Layton, Carter Leiterman, Donnie Love, Susan Love, Gena Mayhew, Lisa McNeary, Matthew Nicklas, Scott Seymour, Julia Weller
Pink Panther Characters:
Clouseau, Chief Inspector of the Surete – Reggie Allison
Francois, Clouseau's Driver – Scott Seymour
Cato, Clouseau's butler – Donnie Love
Dreyfus, former Chief Inspector; arch-enemy – Peter Graybeal
Dr Duval, Dreyfus' psychiatrist – Della Layton
Drummond, Scotland Yard Inspector – Susan Love
McLaren, Scotland Yard Inspector – Julia Weller
Dr. Fassbender, Inventor of the Doomsday Machine – Kenneth Laux
Margot, Fassbender's daughter – Chloe Funk
Olga, Russian agent & Clouseau's love – Megan Gotham
Jarvis, Fassbender's butler – Matthew Nicklas
Mrs. Japonica, Fassbender's maid – Sage Brandum
Mrs. Leverlilly, Fassbender's housekeeper – Angie Cupp
Mrs. Bullock, Fassbender's Cook – Megan Gotham
Mrs. Shork, Fassbender's Gardener – Della Layton
Mrs. Stutterstutt, Fassbender's Beekeeper – Lisa McNeary
Tournier, bank robber – Scott Seymour
Hindu Harry, Dreyfus' gangster cohort – Caleb Layton
Cairo Fred, Dreyfus' henchman – Carter Leiterman
Inmate, "Indian" inhabitant of insane asylum – Sage Brandum
Orderly, at insane asylum – Caleb Layton
Orderly, at insane asylum – Carter Leiterman
Waitress, Oktoberfest and assassin – Sage Brandum
Assassins (Italian, Polish, Japanese, Chinese – Bailey Burke, Carter Leiterman
Mexican, Swedish, Nigerian, Arabian – Gena Mayhew, Angie Cupp, Donnie Love, Scott Seymour, Caleb Layton, Susan Love
Chuck, head waiter at Mirage Club – Scott Seymour
French Woman, in café – Lisa McNeary
French Man, in café – Scott Seymour
Waiter, in café – Matthew Nicklas
Messenger, bearer of news for Clouseau – Julia Weller
Desk Clerk, in German Hotel – Chloe Funk
Desk Clerk, in German Hotel – Lisa McNeary
German pretzel girl – Sage Brandum
Pink Panthers – Ryleigh Bragg, Bailey Burke, Kelsey Cupp, Kairi Gotham, Olivia Layton, Gena Mayhew