LAURELVILLE, Ohio (Dimple Times) – The Laurelville fruit farm has been a beloved part of the community for the past 109 years, serving the Laurelville area with delicious, award-winning cider in the fall, delicious crisp apples, peaches, and cherries.
Bob and Sherry Bowers, the owners of Laurelville Fruit Farm, were looking for a way to showcase all these great things about the fruit farm, coming across a way that would be captivating and a sight for all to see – a beautiful mural on the side of their building.
What ultimately brought on this idea to do a mural was seeing the work of Pamela Kellough, a talented painter who paints murals for business and residents.
"What started the ball rolling was I've seen some of Pam's work. I've seen it online, and she's a Ross County person and I work in Ross County, so I kind of knew of her. I've seen her work and I was impressed," Sherry shared. "Downtown Chillicothe is on a real role for revitalization I feel, and it just kind of all came together in my mind 'Why can't we try that on the apple house?'"
This prompted Sherry and Bob to meet with Pamela, which allowed them to spark an idea for a design that would be both beautiful and easy for people driving by to see. Sherry and Bob wanted the design to showcase big, bright apples that would capture the attention of those walking or driving by their building, all the while keeping the name Bowers and Daughters and the year 1911 – 2011 to mark the 100th anniversary within the design.

Advertisement - Story continues below
Pamela captured everything they wanted on a smaller scale, coming up with a design to present to them before the actual mural painting began.
"I wanted to make the most luscious apples possible, appearing as though you could pluck them off the wall and eat them," Pamela explained, going on to add: "I chose unique lettering wanting it to appear similar to an old-time marquee in lights. My goal is to bring the client's vision to life and draw tourists to the community."
Weather played an interesting role in getting the mural done. Rain played the biggest part in making it difficult to get the mural done, resulting in a week loss of painting time but Pamela shared that while there difficult days, there were just as many that were filled sunshine and mild temperatures.
A very in-depth and hands-on process, the entire mural took Pamela 17 days to complete. It's 1,000 square feet, measuring 50′ x 20′.
"Once a mural starts a common question is 'How many coats of paint do you use?' Some places, such as background it only requires four and in some places up to 12-13. Sometimes I work freehand and depending upon the complexity, I may make patterns from my original sketches. The most important part of any mural is surface prep, sometimes mortar repair, priming, etc," Pamela explained.
Laurelville Fruit Farm doesn't open until the fall but locals and travelers are more than welcome to come down to see the new, beautiful mural. Bob is grateful for the customers and the family they've built over the last hundred years in the community, and both Sherry and Bob love to see what people show up with stories and past memories to share.
Pamela shares about her extensive process on this project and about other projects she is working on on her Facebook page, Pamela Kellough Murals.
"One of the most endearing parts of my job is getting to know my clients and the community in which I work. I have been in business for 20+years and have gotten to know and develop many friendships with people." Pamela closes.
Laurelville Fruit Farm is located at:
16181 Pike St
Laurelville, OH 43135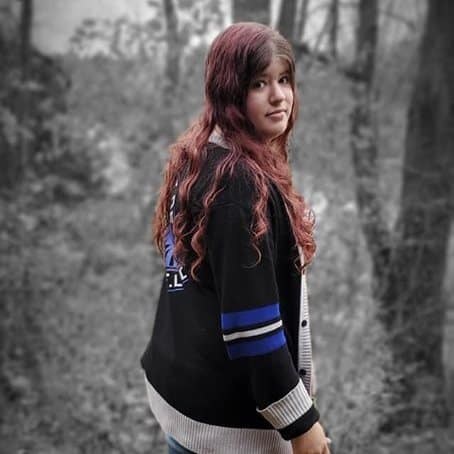 Lauren has been writing since she was at least ten years old – and anywhere she traveled, you could always bet that she would have a journal and a pen in hand. Though she writes mostly for the Dimple Times now, she has dabbled in writing short stories and novels throughout her life.
She's spent most of her life in Circleville, Ohio – which has been a huge inspiration behind a lot of the locations, situations and ideas she has come up with for her different stories over the years.
Lauren enjoys using her writing to bring enlightening, encouraging and informative content to the Dimple Times – but outside of work, she also enjoys curling up with her cat to watch movies, read or simply to write for herself.