It's nearing that time of year… where the only thing on our mind is what pumpkin goodies we're going to indulge on and what Pumpkin Show souvenirs are we going to pick up. However, things look a little strange this year – as we are looking at what has been the first cancellation of the Pumpkin Show since 1944.
While there may not be a huge show shutting down the streets of downtown Circleville, there are still things happening right in the downtown area – in the form of unique souvenir items that can be purchased at some of our great local businesses. Here are six Pumpkin Show souvenirs that can be purchased locally.
1 – Pumpkin Beanies from Uniquely Yours
Not only does it keep you warm during the chillier days, but this unique beanie from Uniquely Yours makes a great piece to tie in your fall outfit with its soft orange color and cute pumpkin design. Be sure to follow Uniquely Yours Facebook to view other pumpkin items they have.
2 – Pumpkin Show Journal from Ivy Court
What better way to keep track of your year than inside a very cool Winky journal? This souvenir comes from Ivy Court – which has so much more than just journals to offer. You can find Winky on other souvenirs such as apparel, decor, and much more. Want to keep up-to-date or view their other great products? Be sure to check out Ivy Courts Facebook!
3 – Pumpkin Show License Plate from Ink My Logo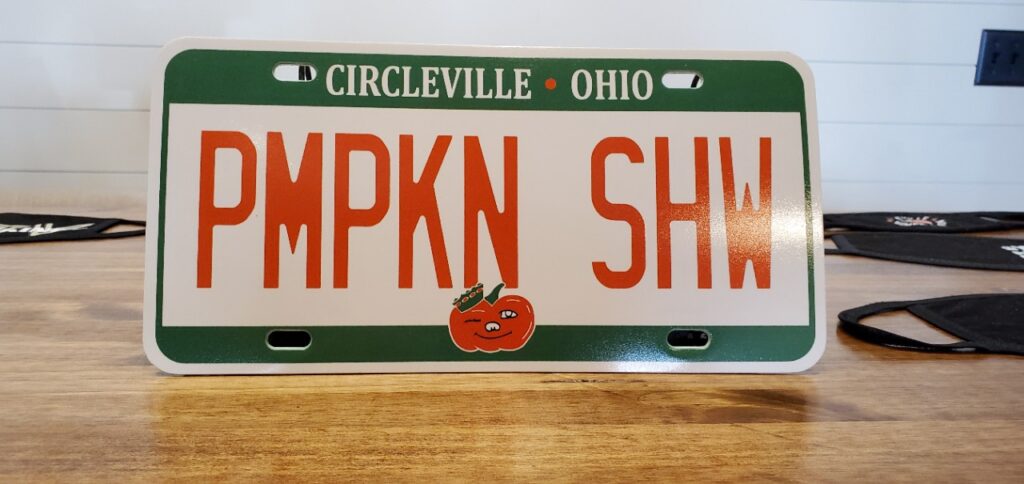 Show off your Pumpkin Show fan status with this super neat Pumpkin Show license plate from Ink My Logo. It's colorful, trendy, and would make a great accent to your vehicle or great decor for your wall! Want to see what other great items Ink My Logo has? Be sure to follow Ink My Logo's Facebook!
4 – Pumpkin Show Ornament from Christopher's Boutique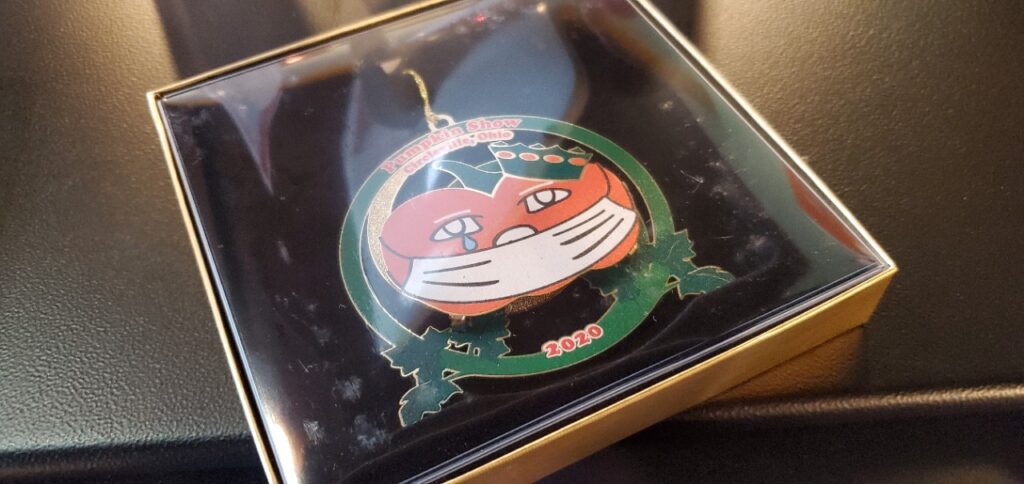 Shortly after Pumpkin Show, we instantly start thinking about the upcoming holidays – and this includes Christmas! Soon, you'll be decorating your tree… and this unique, one-of-a-kind ornament from Christopher's Boutique is the perfect trinket to buy! If you're looking for other unique gift items, be sure to check out Christopher's Boutique Facebook!
5 – The Pumpkin Returns T-Shirt from Sharff's
Let's face it, t-shirts are one of those souvenirs that pretty much everyone has on their list. Oftentimes, there are many designs to choose from… but wearing this one from Sharff's lets people know that the Pumpkin Show will return again in 2021, and we are eagerly awaiting it. Be sure to follow Sharff's on Facebook!
6 – 2020 Cancelled Pumpkin Show Pin from Treasure Isle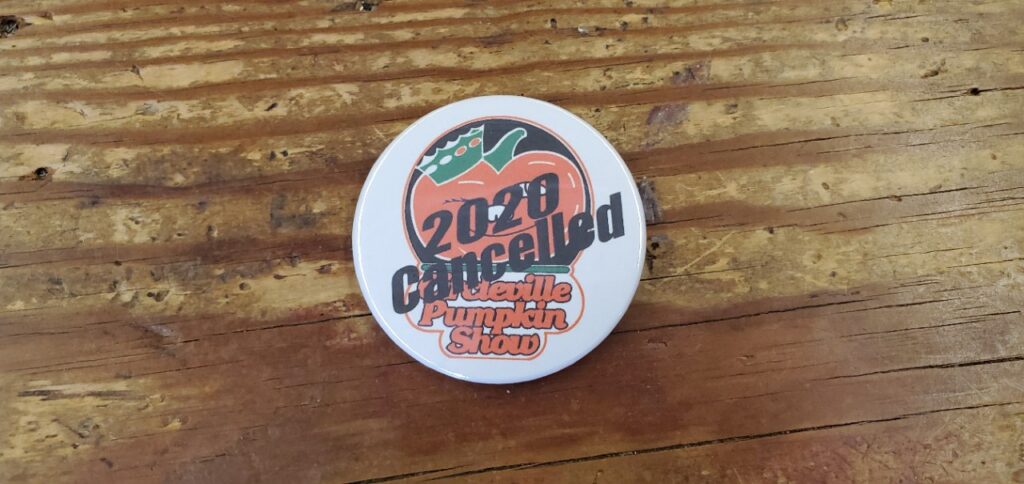 Pins are a trendy way to add a little flair to your backpack, purse, or even your outfit and are easily a pretty popular collectible. This 2020 Cancelled Pumpkin Show Pin from Treasure Isle is meant to be a keepsake for this very strange year… where we have had to face a cancellation of the Greatest Free Show on Earth. Treasure Isle has a unique batch of other Pumpkin Show souvenirs that you can check out, so be sure to follow the Treasure Isle Circleville Facebook for more updates.
So, what do you think? Are there other souvenirs that you're looking forward to picking up this year? This is only just a small handful of what great Pumpkin Show souvenirs are out there… as there are many more at other small businesses and even more at some of the places we've listed. Be sure to show your support to our community by shopping local, and picking up your unique souvenir for this year.
BONUS IDEA – Get official Pumpkin Show, Inc. souvenirs from the Pickaway County Visitors Bureau
Please also note that you can stop by the Pickaway County Visitors Bureau and Welcome Center (325 W Main St) and pick up official Pumpkin Show, Inc. souvenirs.