If you're looking for a place that has a unique spin on a backyard classic, I recommend checking out Bob's Backyard BBQ in Destination Downtown Lancaster.
Bob's Backyard BBQ is a unique sit down location – it has a countryside kitchen vibe with its hardwood floors, red, white and blue decorations and a giant chalkboard menu. Bar stools along the front counter gives you a spot up close to enjoy the food, or you and some friends can gather around one of their tables.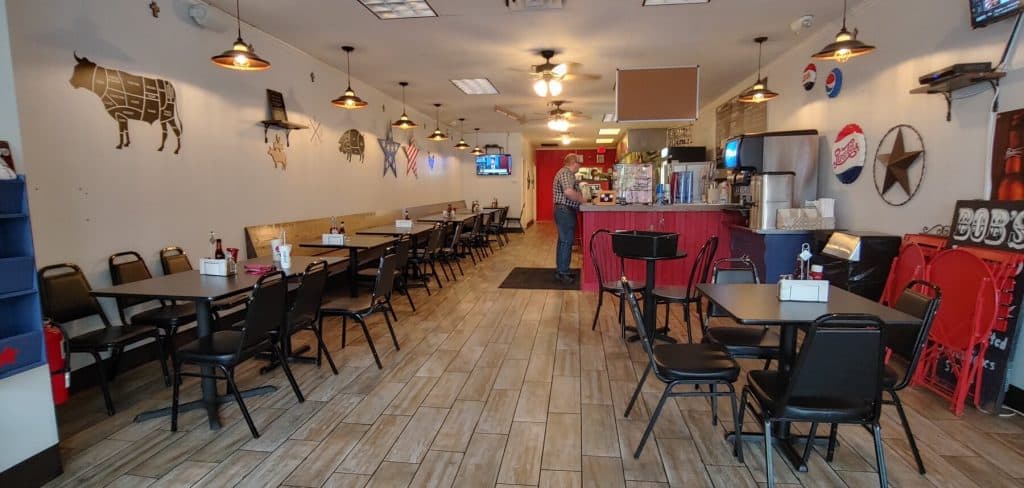 Their menu gives you a wide variety of options to try some unique pulled pork or chicken combinations paired with some of their tasty homemade signature sauces.
We decided to play it safe with their signature pulled pork, which has an Applewood-smoked pork pressed between two delicious, warm toasted bread slices. This sandwich paired up with their signature sweet and spicy sauce gave the perfect amount of tang on an already incredible sandwich.
What's the point of going someplace new if you don't at least try something unique off their menu, though?
Their Mac & Moo sandwich was our something new – and it was something I'd have again. Picture the perfect BBQ all wrapped up in one sandwich – sauteed onions, pork and cheesy Mac & Cheese pressed between two toasted cheddar cheese bread slices. The medley is so perfect together, how could you possibly make it any better? Here's a hint: add a bit of their signature sweet BBQ sauce and you're set to go.
Be sure to stop on down to Bob's Backyard BBQ, say hi to their incredible staff of employees and enjoy a nice backyard sandwich – you won't regret it.
Bob's Backyard BBQ is located:
157 W Main St
Lancaster, OH 43130
---
About Dimple Dash Reviews
Dimple Dash is a foodie review of restaurants located in our reading area. This includes Fairfield, Fayette, Pickaway and Ross County but may reach slightly outside those counties too. Some restaurants may be locally owned and some may be national, regional or chain stores. No matter what, our "Dimple Dash" reviews are one of our most popular online topics. We're guessing because everyone loves food!
If you are a business that would like to have a "Dimple Dash" team review your restaurant, bakery, coffee shop or other eating establishment please contact us to find out more information. <<Click Here>>
If you have a suggestion of a restaurant you would like us to check out and possibly do a review for please drop us a note.