There are a couple of ways you can keep up with us.  First you can subscribe to our email list and get weekly article updates along with any specials.  There is no charge to join our email list.
SUBSCRIBE FOR EMAIL
Receive our "Interactive, Inspiring and Informative" newsletter along with updates of what is going on by subscribing.  It's FREE!

---
Subscribe for HOME DELIVERY of our newspaper via US MAIL
The second thing you can do is get a subscription for the print edition of our newspaper.  We don't charge you for the paper, but we do charge a small amount to help cover postage.
Do you live outside our area and unable to pick up a copy?  Do you want to make sure you get each edition we print without having to worry if there are any left at your favorite rack location?
Whatever the reason a subscription to the Dimple Times may be the perfect ticket for you.  Each month we will mail you a copy via US Mail.  The subscription price helps cover the cost of postage and the envelope but the paper itself is still FREE…thanks to our community sponsors.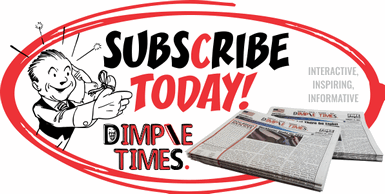 Subscribe to The Dimple Times and get the newspaper conveniently delivered to your home twice a month.  Published the second and fourth Thursday each month.
One Year Subscription
View more info about a 1-year subscription.
---
Two Year Subscription
View more info about a 2-year subscription.
---
Click on an image above to find out more information!