Picture an industrial atmosphere with dangling Edison Bulbs, rustic steel doors, chalkboard menus and wraps served hot or cold – and you've got yourself Santino's. Santino's is a Destination Downtown Lancaster American Restaurant that serves healthy eats, delectable sweet treats, and offers catering for your next big event!
We decided to go for one of their cold wraps and one of their hot wraps. The cold wrap was a seasoned, grilled chicken paired with bacon, cheddar cheese, crisp romaine lettuce, Roma tomatoes, cucumbers, and ranch dressing – making up what is best known as their Chicken BLT. It was a surprising blend with the cucumbers being added to the mix, but that is what made it so unique! The vegetables were crisp, fresh and the flavors of the chicken, bacon, and ranch all pieced together perfectly with the grilled tomato wrap.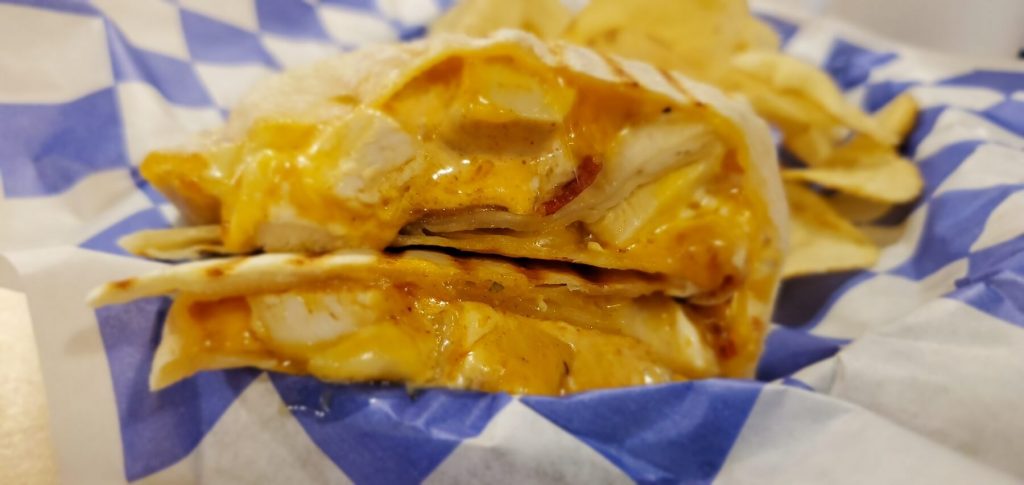 Our hot wrap, which is served piping hot and fresh – is a flour wrap filled with seasoned grilled chicken matched with melted cheddar cheese and pepper jack cheese(for that added spice), crisp bacon, jalapenos, sour cream, and house-made taco ranch dressing.
This perfectly cheesy, deliciously fresh wrap is known as their Chicken Quesadilla – a local favorite at the restaurant.
Outside of wraps, Santino's also offers Panini's and Salads – and the choice to make any of their items vegetarian or gluten-free. All wraps and panini's come with a side of chips.
You can visit Santino's in Destination Downtown Lancaster, Ohio.
---
About Dimple Dash Reviews
Dimple Dash is a foodie review of restaurants located in our reading area. This includes Fairfield, Fayette, Pickaway and Ross County but may reach slightly outside those counties too. Some restaurants may be locally owned and some may be national, regional or chain stores. No matter what, our "Dimple Dash" reviews are one of our most popular online topics. We're guessing because everyone loves food!
If you are a business that would like to have a "Dimple Dash" team review your restaurant, bakery, coffee shop or other eating establishment please contact us to find out more information. <<Click Here>>
If you have a suggestion of a restaurant you would like us to check out and possibly do a review for please drop us a note.