CIRCLEVILLE, Ohio (Dimple Times) – The perfect mix of summer meets the tranquility of fall with this delectable treat from Dairy Shed – and it is undoubtedly the pumpkin lovers' ideal snack. Known as the Pumpkin Bowl Sundae, this thing is absolutely a monster. Layers upon layers of sugary goodness all meld together to make what I would have to say is one of the best pumpkin treats I've had.
Resting in the bottom of the bowl is a piping hot, fresh pumpkin cake topped with a generous drizzle of caramel, pecans, with a heaping amount of pumpkin ice cream and whipped cream. The pecans and whipped cream are optional but I personally feel those two toppings really add to the flavor, the pecans providing a crunch to the delicious gooeyness.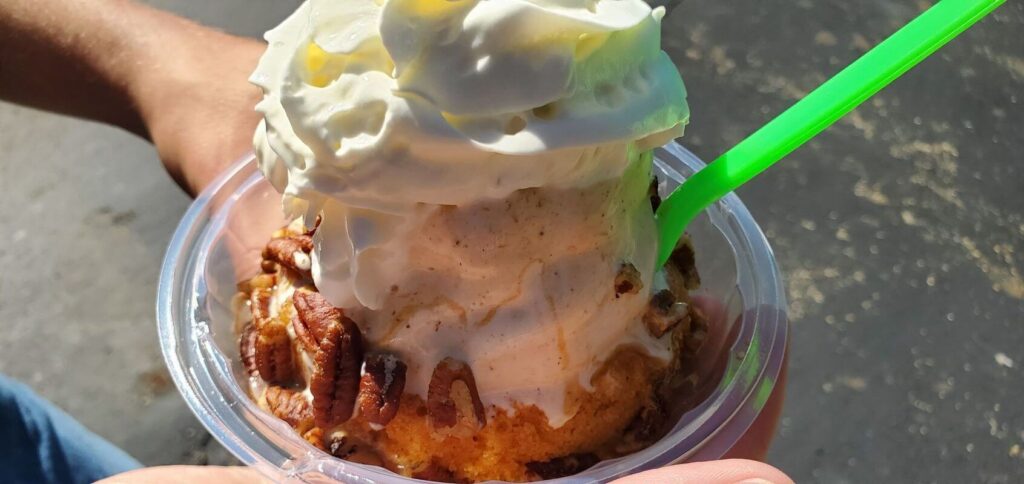 This is a hefty treat for one person to tackle, but it is well worth it. So, go ahead and splurge a little on the sugar. Treat yourself, as people say. However, if you're not feeling the Pumpkin Bowl Sundae, Dairy Shed has a nice variety of other pumpkin goodies and sweets that are sure to appeal to the pumpkin fanatic.
Dairy Shed is located at:
350 Kingston Pike
Circleville, OH 43113
About Dimple Dash Reviews
Dimple Dash is a foodie review of restaurants located in our reading area. This includes Fairfield, Fayette, Pickaway and Ross County but may reach slightly outside those counties too. Some restaurants may be locally owned and some may be national, regional or chain stores. No matter what, our "Dimple Dash" reviews are one of our most popular online topics. We're guessing because everyone loves food!
If you are a business that would like to have a "Dimple Dash" team review your restaurant, bakery, coffee shop or other eating establishment please contact us to find out more information. <<Click Here>>
If you have a suggestion of a restaurant you would like us to check out and possibly do a review for please drop us a note.