El Pedregal has been the talk of the town ever since they opened earlier this summer, it's beautiful, old town western atmosphere buzzing with excitement and activity from locals eager to try out the new restaurant.
We visited El Pedregal for lunch, where a kind waiter seated us at a booth. While we looked over the menu with a wide variety of options, we were able to piece on complimentary chips that were toasty warm and fresh, dipping it into a medium spiced restaurant-style salsa.
We ordered a couple of items off of their lunch menu, while the portions for lunch are smaller than dinner – they were a decent size and delicious in flavor.
A large, hot plate covered with beans, rice and a decent sized Chimichanga covered with red sauce, melted cheese, lettuce, tomatoes, and sour cream made up for their Lunch Chimichanga on the menu. It comes with a choice of chicken or shredded beef.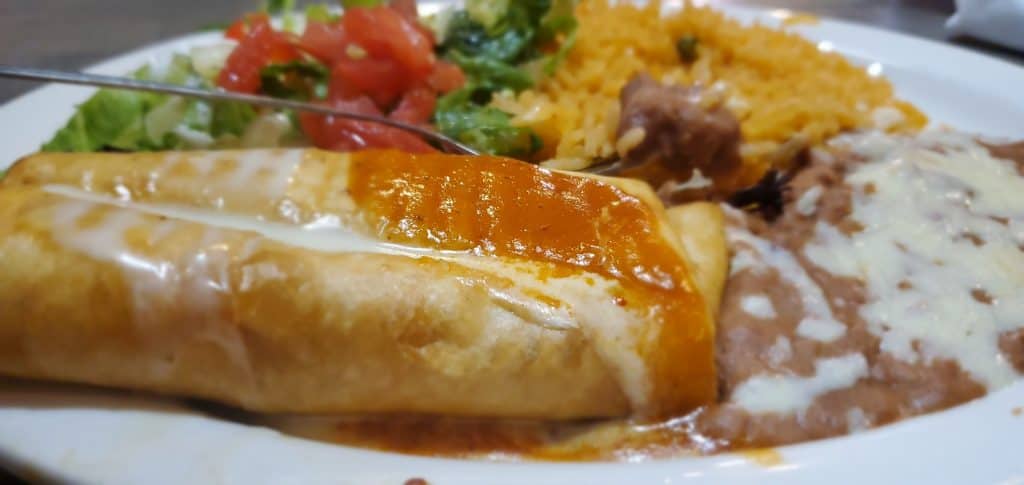 Our second item was a big bowl filled with white rice, romaine lettuce, sour cream, pico de gallo, corn, shredded cheese, black beans and your choice of steak or chicken. Going with the steak, this blend of sweet, savory, and a hint of spice from the variety of hot sauces they offer on their table makes a good, healthy alternative to a traditional burrito.
The Lunch Grilled Bowls is one of my favorite new Mexican dishes, but there are many delicious meals and dishes to choose from at El Pedregal.
A gorgeous dining area, kind and helpful employees, and a great variety of delicious served hot and fresh foods makes El Pedregal an awesome choice for your next meal!
El Pedregal is located at:
129 W Main St
Circleville, OH 43113
---
About Dimple Dash Reviews
Dimple Dash is a foodie review of restaurants located in our reading area. This includes Fairfield, Fayette, Pickaway and Ross County but may reach slightly outside those counties too. Some restaurants may be locally owned and some may be national, regional or chain stores. No matter what, our "Dimple Dash" reviews are one of our most popular online topics. We're guessing because everyone loves food!
If you are a business that would like to have a "Dimple Dash" team review your restaurant, bakery, coffee shop or other eating establishment please contact us to find out more information. <<Click Here>>
If you have a suggestion of a restaurant you would like us to check out and possibly do a review for please drop us a note.