CIRCLEVILLE, Ohio (Dimple Times) When it comes to answering the call for those in need, a helping hand can make all the difference in the world.
For Canadian truck driver Justin Martin, that need was finding someplace open so that he could pick up food to eat. With the latest changes to the COVID-19 situation, places such as restaurants are closing earlier or are no longer offering dine-in to help limit the spread of the virus. With these changes, it has been difficult for truck drivers to figure out places to eat – and Justin not only expresses those concerns in a video he shared to Facebook but explains how one local chain restaurant went above and beyond in answering the call.

Advertisement - Story continues below
Request advertising info. View All.
By 10pm at night, a lot of the restaurants near the Walmart Supercenter had already closed up for the night and options were limited. Without a lot of options, Justin took a leap of faith when he had seen that there were a couple of vehicles still sitting in the Wendy's parking lot. "I walked over to Wendy's and tapped on the drive-thru window because the lobby was closed," Justin shared in a video he posted to Facebook. "Young lady opened the window and I said, 'I'm a truck driver just parked in the parking lot there, everywhere is closed. Are you guys still open?'"
In the video, Justin explains that the young woman had admitted that they had just closed and had gotten rid of their food for the night. Justin thanked her for her help and went to leave but before he could, she asked him to wait for a moment and left to get a manager.
Justin explained that a manager came to the window not too long after. In the video, he holds up a large Wendy's bag that was filled with a variety of Wendy's food, sauces, and that the manager even encouraged him to take a pop for the road. At the end of all this, Justin offered to pay the manager for his kindness but the manager politely declined. "I gave him $5 Canadian because they've never seen Canadian money here," he explained in the video.
Justin ended his video with a thank you to the Circleville Wendy's night manager and employees, and his hopes that the video would get around so that the manager could see how grateful he was for his act of kindness. "Whoever you got on as your night manager and even the two people that we're in there closing with him, I really appreciate this. I get to eat tonight," Justin closed, a smile on his face.
The General Manager at Wendy's in Circleville shared some thoughts with us on the situation and how the manager responsible was actually a young gentleman named Zach. "He did an awesome job taking care of him," Matt, the General Manager explained in regard to the video. "We're really proud of him."
The manager who was working the night shift, Zach Meadows, was able to share with us about the experience, saying that he was just doing the usual nightly routine when one of the staff members approached him about the truck driver. "You could tell he was very appreciative," Zach explained after he had just given Justin a bag with some of their fried chicken, sauces, and napkins. "He had a big smile on his face as he walked away."
Zach explained that they were all very appreciative of what truck drivers like Justin were doing, so he wanted to make sure that Justin knew that. "A little act of kindness goes a long way," Zach admitted and closed out our conversation later on with, "Bringing a smile to people's face, especially in times of need right now, there's never really a better feeling. So I'm very appreciative of my staff and everyone I work with."
You can watch the full video below.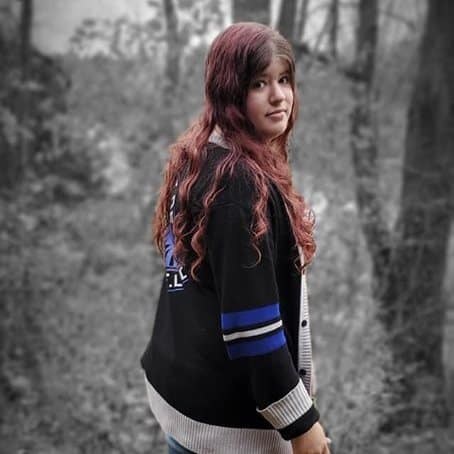 Lauren has been writing since she was at least ten years old – and anywhere she traveled, you could always bet that she would have a journal and a pen in hand. Though she writes mostly for the Dimple Times now, she has dabbled in writing short stories and novels throughout her life.
She's spent most of her life in Circleville, Ohio – which has been a huge inspiration behind a lot of the locations, situations and ideas she has come up with for her different stories over the years.
Lauren enjoys using her writing to bring enlightening, encouraging and informative content to the Dimple Times – but outside of work, she also enjoys curling up with her cat to watch movies, read or simply to write for herself.