LANCASTER, Ohio (Dimple Times) – JB's Downtown Grill offers a fantastic experience with a unique spin to some of your all-time favorites, as well as flaring up their menu with unique meal choices that you won't see anywhere else. The menu ranges from burgers, wraps, sandwiches, salads, and even offers a kid's menu. The coolest thing? Their food is made from scratch and in house each day.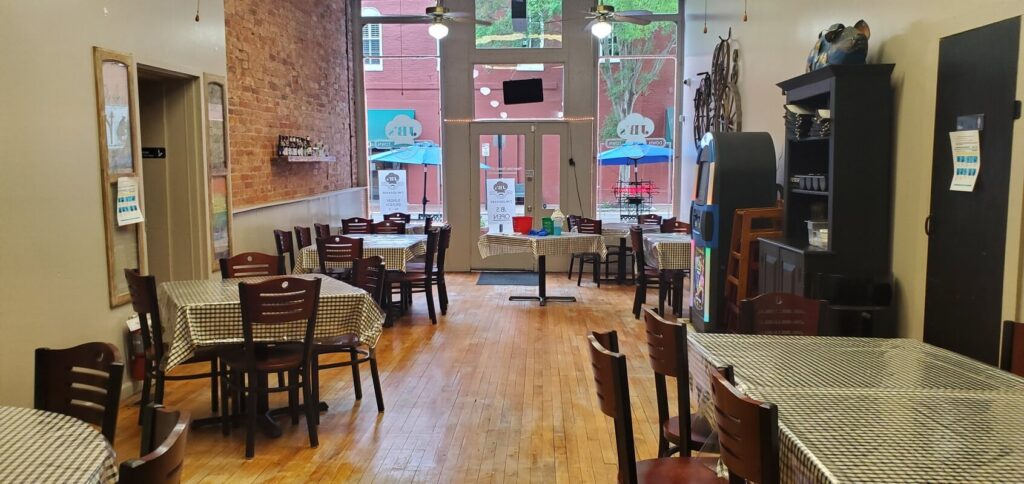 We sat outside in their outdoor dining area, where we enjoyed the downtown Lancaster atmosphere while one of the waitresses immediately took our order.
My dad ordered The Chicken Tender sandwich, with southern fried chicken tenders stacked with marinated tomatoes, romaine lettuce, cheese, and my dad's choice of Cajun ranch. This is a hefty sandwich that comes with your choice of cheese and either Cajun, Buffalo, or Asian ranch.
I ordered one of their unique wraps – a special blend called "The Works." Fried chicken tenders, beef slider meat, and pulled pork are all wrapped up in a shell with fresh lettuce, tomatoes, cheese, and a special Dijon mayonnaise sauce.
Much like its name, this wrap definitely has all the works. While it may sound like an unusual blend it is actually a delicious, filling meal that is served piping hot, fresh and bursting with juicy bits of flavor in every bite.
Our meals were served with our choice of their fresh-cut spuds, which were salted, perfectly crispy, and paired well with our meal. Want something other than fries? You can also choose between cottage cheese or coleslaw.
https://www.facebook.com/DimpleTimes/videos/3054942541210654/?v=3054942541210654
The waitresses at JB's Downtown Grill were very kind and attentive to our table, giving us drinks to go and making sure that our table was checked on. Whether you enjoy their food on their outdoor patio, dining in, or to go… be sure to support local and check out JB's Downtown Grill.
JB's Downtown Grill is located at:
111 N Columbus St
Lancaster, OH 43130
---
About Dimple Dash Reviews
Dimple Dash is a foodie review of restaurants located in our reading area. This includes Fairfield, Fayette, Pickaway and Ross County but may reach slightly outside those counties too. Some restaurants may be locally owned and some may be national, regional or chain stores. No matter what, our "Dimple Dash" reviews are one of our most popular online topics. We're guessing because everyone loves food!
If you are a business that would like to have a "Dimple Dash" team review your restaurant, bakery, coffee shop or other eating establishment please contact us to find out more information. <<Click Here>>
If you have a suggestion of a restaurant you would like us to check out and possibly do a review for please drop us a note.